Congratulations Metro Parks Tacoma
Metro Parks Tacoma has won the prestigious 2019 National Gold Medal Award for Excellence in Park and Recreation Management, the top achievement in the industry.
The announcement was made Tuesday, Sept. 24 by the American Academy for Park and Recreation Administration (AAPRA) at the opening session of the National Recreation and Park Association (NRPA) annual conference.
Metro Parks also learned at the conference that it has earned accreditation for a second time, meaning it remains in an elite group of agencies that meet 151 rigorous standards for managing lands, facilities, resources, programs, safety, and services. Only three agencies in Washington State have earned accreditation.
"Our staff, our volunteers, our program partners, and our community members rise to the challenge every day to help Metro Parks be among the best in the industry. The past few years have been extraordinary, as we've built new parks and facilities, added or enhanced programs, and developed new partnerships to expand our reach. Earning the National Gold Medal Award and accreditation at the same time is an incredible honor for everyone who contributes to our mission of creating healthy places to play, learn and grow."

 —Aaron Pointer, President of the Metro Parks Board of Commissioners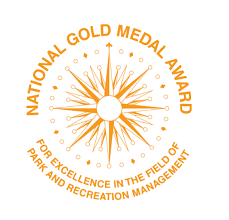 The National Gold Medal Award program honors communities that demonstrate excellence through long-range planning, resource management, volunteerism, environmental stewardship, program development, professional development, and agency recognition. This is the third time Metro Parks has won it. The park district won the National Gold Medal in 1985 and 1992, and it was a finalist in 2017.
Metro Parks highlighted a variety of accomplishments in its application and video, including:
Opening the Pacific Seas Aquarium and Eastside Community Center in 2018
Transforming a contaminated Superfund site into Dune Peninsula and the Wilson Way pedestrian bridge, which opened in July
Creating the Elementary Sports Program and Whole Child Access Pass to reduce geographic and economic barriers that make it harder for children to participate in recreational opportunities
Expanding environmental and conservation education from pre-school through high school, and implementing programs such as the Ocean-Friendly Restaurant campaign to reduce single-use plastics
The other National Gold Medal finalists in the population category of 150,000 to 400,000 people were agencies serving Tampa, Fla; Norfolk, Va.; and Greensboro, N.C. The Washington State Parks and Recreation Commission was among four finalists in the state parks category, which was won by Florida.
The process for accreditation included a lengthy assessment of 151 standards, hundreds of supporting documents submitted as evidence, a four-day site visit by a team of trained park professionals, and a hearing with the commission to grant accreditation. Metro Parks was first accredited in 2014, and this was the district's first time being reaccredited.
"I'm excited for our staff and everyone associated with Metro Parks to receive such distinguished recognition. It's a credit to their passion, energy and innovative thinking...This isn't a one-time accomplishment. Being reaccredited shows we are doing our best to live these standards every day."

—Metro Parks Executive Director Shon Sylvia
Of the thousands of park and recreation agencies in the nation, only 178 are accredited, according to NRPA. The park departments in Bellevue and Shoreline are the only other accredited agencies in the state of Washington.
The NRPA is a nonprofit dedicated to helping its 60,000 members provide everyone with access to parks and recreation services for health, conservation, and social equity. The AAPRA is focused on the administration of recreation and parks.
Questions? 
Contact: Hunter George, Chief Communications Officer, (253) 305-1065; [email protected]
---

Join Us in Tacoma April 21–24, 2020
Did you know that the 2020 Annual Conference & Tradeshow will be hosted in Tacoma? WRPA welcomes more than 450 recreation and park professionals, sponsors, exhibitors, and speakers to our annual conferences. This year we hope even more Washington park and rec professionals can join us for another great event!
---
If your agency is a WRPA member and you have a story you would like to share please email the WRPA office at [email protected].
Share this post: