Join ORPA for Park Planner Palooza VI
Join the Oregon Recreation and Parks Association for an Educational Event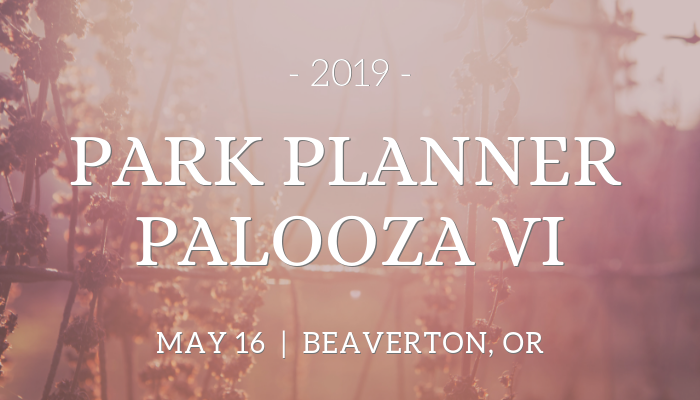 More design charette than lecture, Park Planner Palooza VI is an opportunity for park planners and designers to receive training (and CEU credits), discuss cutting-edge planning initiatives, and view innovative projects with other park and recreation planners from around Oregon in a relaxed, informal atmosphere.
Highlights include:
Reaching Diverse Audiences: Learn innovative methods to re-envision the typical public engagement process to better engage, plan, and design community projects that foster unity and diversity. We'll hear presentations on what has worked and what hasn't, then we'll stage mock engagement scenarios. Speakers include Carolyn Burke (Eugene Parks and Open Space), Maija Spencer (Portland Parks & Recreation), Olena Turula, and Karen Vitkay (Metro).
Playful Parks: Parks should be fun, active places. Hear from Ian Isaacson (Bend Park & Recreation District) and Mauricio Villarreal (PLACE), then brainstorm ideas and share best practices for making parks playful.
Communicating With Consultants and Clients: Do you get what you want and need when managing a project? Think things could be better? Join Ben Johnson (Greenworks), Gery Keck (Tualatin Hills Park & Recreation District), and Mary Stewart (Alta Planning) in a panel discussion of how to improve verbal and written communication from RFP to project implementation, followed by a hands-on session to try out new skills.
The event will be held in the cozy stable at the 68-acre Jenkins Estate in Beaverton, Oregon. Attendees will have time to explore the buildings, forest, and gardens. Attendees will also visit the Mountain View Champions Park, an all-abilities sports and recreation complex, where park planning and program staff will share tips and tricks for creating a site that works for the users.
Wrap up the day with pizza and adult beverages at ExNovo Brewing in Beaverton's historic downtown.
Share this post: